Data Center
Since its launch in the mid-1990s, our Data Center has been a leading source of detailed, reliable, and timely statistics and analysis about key issues in construction industry safety and health.
The Data Center develops publications and presentations, responds to data requests, and provides statistical consultations to construction stakeholders.  Its findings on fatal and nonfatal injury trends, safety and health progress, changes in the industry, and worker demographics have directly supported overall construction research and interventions. Construction stakeholders–including contractors, owners, researchers, safety and health professionals, and policymakers—regularly use the products.
The Data Center's online products include: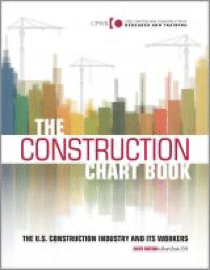 The Construction Chart Book –The U.S. Construction Industry and Its Workers continues to present the most complete data available on all facets–economic, demographic, employment/income, education/training, safety and health, and more–of the U.S. construction industry.  The latest Chart Book (6th edition) not only offers on-demand access to charts and data, but it also includes interactive features such as accessing definitions instantly, enlarging charts, and linking to references, citations, and databases.
CPWR Data Reports are another key element of fulfilling our commitment to providing timely, data-driven information to the construction industry. The new CPWR Data Bulletin, published six times a year, focuses on one topic or emerging issue, using large nationally representative data sources.
The Data Center's current work continues proactive surveillance and research on construction safety and health to provide accurate and updated data and statistical services to all stakeholders. Its outputs include:
Evidence-based guidance for construction injury interventions, research to practice (r2p), and health promotions;
Improved contextual understanding of the construction industry, workforce, work organization, safety management, and other indicators related to the safety and health of construction workers.
Learn more about the significance of the Data Center's work through its IMPACT card.